Gambling
Edit
Gambling is not required to Play Rock The Vegas but it does have the potential to help you score some cash and Gold Coins early on.Registration is required to play the slots as is an internet connection. You can access the slots at any time by clicking on the icon of a slot machine in the right bottom corner of the playing screen. Clicking on the icon will load a new screen where the slot machine is located. The only interaction available is to buy chips, by clicking on the Chip Icon or Spinning the wheel by pressing the Spin Icon.
Odds of winning are unknown.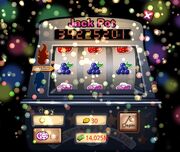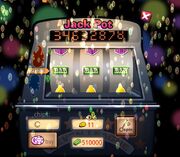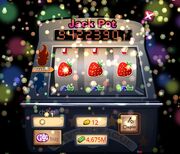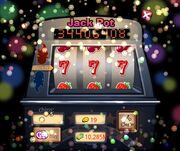 The slots are played by spending Chips. Winnings are in the form of Chips, Gold Coins or Dollars depending on the turn of the wheel. Combinations of two in any order will net large money winnings in the $85,000 range in up into the hundreds of thousands. There are also combinations that will net small amounts of Gold Coins or Chips.
For matching two items on the line in any order you can win:
1 to 4 Chips
1 to 4 Gold Coins
Money in the following amounts:
$595,000
$425,000
$255,000
$170,000
$85,000
There is a constantly accumulating jackpot at the top of the slots that probably represents dollars but not being labeled it could also be chips or gold coins.
Winnings for Three of a kind are as follows:
Gift Gift Gift = Unknown (Possibly the jackpot that is accumulating above.)
Bar Bar Bar = 6 Gold Coins
Bell Bell Bell = 5 Gold Coins
Strawberry Strawberry Strawberry = 4 Coins
7 7 7 = 5 Chips
Cherry Cherry Cherry = 5 Chips
Grapes Grapes Grapes = 2 Chips
Strawberry Strawberry Strawberry = 1 Chip

Chips can be bought with gold coins at the following rates:
2 Chips cost 2 Gold Coins
5 Chips cost 5 Gold Coins
10 Chips cost 9 Gold Coins
20 Chips cost 17 Gold Coins
30 Chips cost 24 Gold Coins
50 Chips cost 37 Gold Coins
75 Chips cost 51 Gold Coins
100 Chips cost 63 Gold Coins
Real Life Example
Edit
Odds of winning are not known but the following is a real life example of what to expect. (My personal assessment is to spend the chips you are given at the start and save your gold coins for buying the Cleopatra Restaurant Caesars Palace Hotel.)
Amount of chips started with - 100
Cost for 100 chips is 63 Gold coins.
Real life cost for 100 gold coins would be about $12 USD.
Total number of spins before reaching 0 chips - 117
First win at 7th spin.
At spin 11 hit the three grapes and recived 2 chips.
At spin 70 hit the three bars and received 6 gold coins.
At spin 81 hit the three 7s and received 5 chips.
Total winnings:
Chips - 17
Gold Coins - 25
Money - $4,845,000
Ad blocker interference detected!
Wikia is a free-to-use site that makes money from advertising. We have a modified experience for viewers using ad blockers

Wikia is not accessible if you've made further modifications. Remove the custom ad blocker rule(s) and the page will load as expected.