During Thanksgiving you can collect new resources -- pies, cranberries, corn, apples -- to use to build limited edition structures. These new structures can be found in the 5th build tab. You collect the resources by clicking on the turkey cars driving thru your Vegas. The resources you've collected can be viewed in the Resource tab in your warehouse.
There are also new awards and gifts to send your friends.
Limited Edition Structures
Edit
If you build all 4 unique structures you'll be able to build a special reward -- the Turkey Float.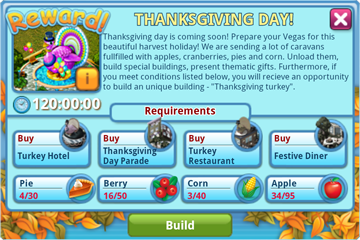 Gifts for Friends
Edit
Resources
Edit
---
Pages in category "Thanksgiving 2011"
The following 6 pages are in this category, out of 6 total.
Ad blocker interference detected!
Wikia is a free-to-use site that makes money from advertising. We have a modified experience for viewers using ad blockers

Wikia is not accessible if you've made further modifications. Remove the custom ad blocker rule(s) and the page will load as expected.